Feature phones aren't dead yet: Samsung REX series is announced
25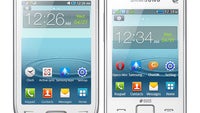 Nope, feature phones haven't gone extinct yet, although their market share is surely dwindling. Samsung just announced a whole new lineup of feature phones tailored for the needs of emerging markets. The Samsung REX series, as it is called, consists of four handsets priced from Rs. 4,280 up to Rs. 6,490 ($80 to $120).
The Samsung REX 90 is the leader of the gang with its 3.5-inch touchscreen with resolution of 320 by 480 pixels. It also offers a 3.2MP camera, Wi-Fi, Bluetooth, and a 1,000mAh battery that should provide 15 hours of talk time. Next up we have the Samsung REX 80, which has a smaller, 3-inch touchscreen display with resolution of 240 by 320 pixels. There's a 3MP camera on its back and features like Wi-Fi and Bluetooth are supported. Its battery also has a capacity of 1,000mAh.
The Samsung REX 70 comes pretty close to the REX 80 in terms of features, but sports a camera of only 2MP and has no Wi-Fi support. And the Samsung REX 60 is the least capable phone among the four with its 2.8-inch resistive touchscreen and 1.3MP camera.
All Samsung REX phones come with the company's TouchWiz UI, home screen widgets, access to social networks, EDGE cellular connectivity, microSD card slots for storage expansion, and basic internet access via Opera Mini. Moreover, 10 free games come pre-loaded on them, courtesy of Gameloft. All models will come in both single- and dual-SIM variants.
The Samsung REX feature phones are bound to hit the shelves in India soon. At this time, we have no information whether any of them will be available in other markets.