Fast paced video walk through Windows Phone 8 on HTC 8X
14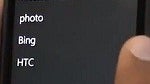 Up to now, events that were showcasing Windows Phone 8 devices ensured that media handlers could not get past the start screen. At the GITEX Computer Shopper show in Dubai, UAE, someone got to run through the device without any such hindrances.
In the video and in the still images you can see a couple nice touches coming to the new operating system. The on-screen keyboard adopts the theme colors when highlighting selected letters during typing. The current Windows Phone 7.x environment is grey and white. In another image, it give you a clear look at ways to set up the lock screen for notifications and detailed status.
As the video progresses, you will notice the device is running Widows Phone 8, build 9841, but it is not known if that is the RTM version. Throughout the video what appears to carry forward through the operation is how smooth and fast the user experience is.
source:
tbreak Technology
via wpcentral (
1
and
2
)