Fake Android Store in China discovered, selling iPhones
13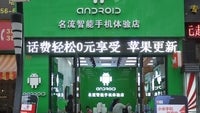 Ahh, China! Land of dragons, emperors, and counterfeit merchandise. What the folks over there have been "inspired by" this time is the Android cute little robot, which has been used to promote a store selling phones, located in the city of Zuhai, Guandong province. And the outlet itself is made to look like what one would call an "Android Store" - with the Android logo all over the place and the whole store beautified by that unmistakable shade of green.
Of course, this so-called Android store is not affiliated with Google in any way. Otherwise, it wouldn't be selling the iPhone too, right? The text underneath the logo is another clue revealing that this is just your ordinary cell phone store. It literally reads
"Celebrities Smartphone Experience Store"
, or
"The Famous Smart Phone Experiencing Store"
, or something like that, our Chinese is not that good. Either way, this not-so-catchy slogan doesn't sound like something Google would approve of. Smells like a lawsuit coming down the road.