Facebook hits the 2 billion users mark, launches special "thank you" features for its users
3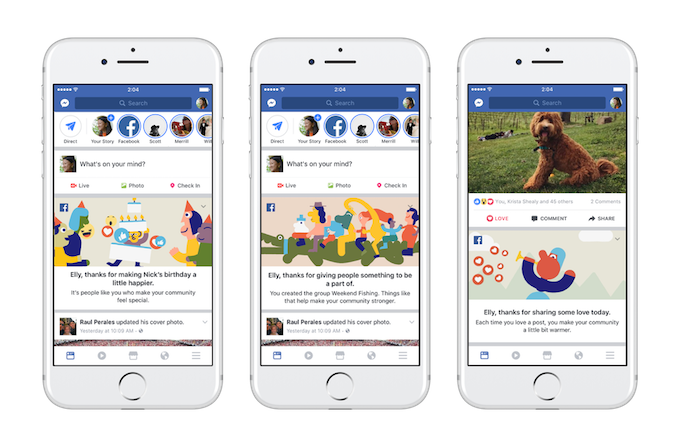 Facebook thanks its users with special "thank you" messages and personalized videos.
It did take the world by storm, didn't it? Very few of us, even the older among us, can vaguely recall what the online space looked like B.F. (before Facebook). In a little more than 13 years, Facebook largely reshaped how we communicate, share information and present ourselves to the world.
Today, the company announced that the social network now attracts 2 billion users, "connecting and building communities on Facebook every month." In order to celebrate the occasion, it launches a few features of gratitude to its users that will run for a few days.
Mark Zuckerberg also marked the achievement with a Facebook post of gratitude.
The features that the media has launched for its users for the special occasion are simple and cheerful, as per usual. Facebook is running a "Good Adds Up" campaign, where it will post about socially significant contributions to the community, and in the US, it will share stories of inspiring people, as part of the campaign. Under the "Good Adds Up" slogan, Facebook will also generate personalized videos for us, using our photos and funky-fresh illustrations.
In addition to these, users will also receive special "thank you" posts from Facebook, directly in their News Feeds, after they love a post, wish someone happy birthday, or create a group. Facebook hasn't specified how many days these features will run for.
Apart from being the first social network to hit the staggering milestone, Facebook's climb to it is also quite impressive. As of mid-2010, there were 'merely' 500 million monthly active accounts, which makes for a rough growth rate of over 20% per year, for the seven years since then. Just for comparison, the second and third most popular social networking sites, YouTube and Instagram, currently attract about 1 billion and 700 million users, respectively.
The news comes just a day after Facebook launched
new Messenger features
, adding new ways of enriching the video chat experience.
Imagining what the next milestone for the company would be is quite difficult, as 2 billion already seems like an astronomical number. But given how quickly and vastly the social network has expanded, and engulfed the lives of so many of us, we can't see why we should not look forward to a 2.5 billion mark in the not-so-unforeseeable future.
source:
Facebook
via
9To5Mac