Facebook friendly Vodafone 555 now on sale
2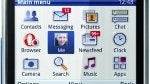 The Vodafone 555, which
features its own version of the Facebook button
, has been released and will only burn a hole in your pocket to the tune of £62.50 (or $102) and won't burden you with a contract.
The Vodafone 555 was
first announced just a few weeks ago
.
While it may not feature Google's Android platform
like similar Facebook button touting devices such as the HTC ChaCha and the HTC Status do, it does give user's direct access to the world's most popular social networking site.
The Facebook button that is present on this device has similar functionality to the higher-end units
. After snapping a photo on the Vodafone 555's camera (albeit a 2 megapixel one) all you have to do is press the button to give you the option of uploading it directly to your profile. You can also check out the Newsfeed (or the stalker feed as many like to call it) and even utilize the Facebook chat feature.
Now if you didn't already know we should remind you that
this phone will limit you to the blazing speeds of 2G
. Usually WiFi would be the saving grace here, but that is not present either, as is the case with most inexpensive, no-contract offerings. There had to be some trade-offs considering the cheap nature of this device. Check out the video and tell us what you think of the Vodafone 555 in the comments below.
source:
Slash Gear