Facebook Messenger crosses 900m active users; announces new Snapchat-like feature
9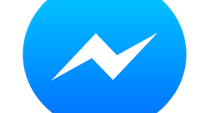 Since it was rolled out some five years ago as a standalone app, Facebook Messenger has grown in strides, and as of now, boasts a laudable 900 million+ monthly active users. Perhaps even more impressive, however, is that the company
passed the 800 million mark
only three month ago. Competitive with the other top IM services and closing in on the billion-strong (and also Facebook-owned) WhatsApp, it looks in good shape to hit that ten-figure active user base before the close of this year. Today, the social network has announced a bevy of upcoming, mainly business-focused enhancements -- one of which borrows heavily from a feature already found through Snapchat.
The inbound changes announced via the Facebook news page are geared towards improving interaction between businesses and consumers. For example, many companies with a presence on Facebook utilize a custom username, but within the Messenger app, this precious dose of brand identity is seldom spotted. Looking ahead, vanity URLs shall benefit from improved visibility within Messenger.
Facebook is also introducing shortened links, or what it calls Messenger Links, with the aim of streamlining the process of direct customer-business interaction through Messenger. By clicking on the shorter URL (m.me/username), users can easily begin a chat thread with the business in question. Messenger Codes work similarly, allowing users to scan a code with their device's camera (à la Snapchat) to open a new chat thread with said business.
As many businesses through Facebook continue to utilize Messenger, Mark Zuckerberg and his team will also roll out Messenger Greetings, a pop-up note that appears as a new chat is opened with a business. As well as being helpful in respect of outlining the direction of the conversation, the greeting could be invaluable point of reference in times of crisis, when many customers are likely to be experiencing similar issues. Either way, for larger firms, this tool could save quite a few man hours.
Facebook says the new features will be rolled out over the next couple of weeks.
Recommended Stories