FTC reaches deal with Google over FRAND patents
10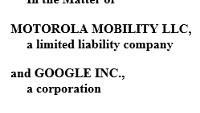 When
Google acquired Motorola in 2011
, the acquisition came with a number of standards-essential patents owned by Motorola. These are patents for parts and technology that are "essential" to the manufacture of certain products and as a result, licensing these patents is supposed to be done in a Fair, Reasonable and Non-Discriminatory (FRAND) manner. Google, though, had been using these patents to threaten other companies interested in licensing them with
injunctions
and
import bans
in order to secure more favorable terms.
On Wednesday, Google and the FTC finalized a settlement that would prevent the FTC from taking action against Google under Section 5 of the FCC Act which coversunfair or deceptive business practices. The Feds' argument is that Google is using these patents as weapons against competitors like Apple and Microsoft.
Under the terms of the agreement, Google can no longer use a FRAND patent as a reason to seek a injunction or import ban as long as the other company is within the jurisdiction of U.S. Courts. It would appear that we will see a gentler, kinder Google involved in patent negotiations in the future.
source:
FTC
via
AllThingsD