FCC passes order designed to force state and local governments to make quick decisions on 5G cells
4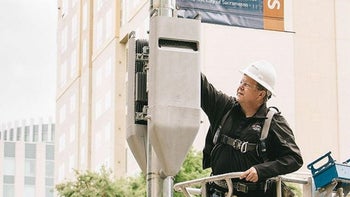 The FCC will soon limit the amount of time that states and local governments will have to approve or turn down requests by wireless carriers to deploy 5G technology. According to the regulatory agency, a new order passed today will save $2 billion in unnecessary costs and stimulate $2.5 billion in new construction. The new "time clock" for a state or local government to approve building a new small wireless facility will be 90 days. The clock will time 60 days for wireless facilities being added to a pre-existing facility. According to the FCC, today's action also "boosts the United States' standing in the race to 5G."

But several cities are not happy with the feds hijacking local control over deployment of 5G small cells and other technology related to the next generation of wireless service. For example, the city of Philadelphia said that maintaining this control helps protect "the health, safety and welfare of the city's over 1.5 million residents and 43 million annual visitors." In another blow to local governments, FCC commissioner Brendan Carr says that states and cities will be able to charge carriers to review the deployment of small cells and other technology, but cannot charge excessive fees.
All four commissioners voted for the order with a partial dissent from the lone Democrat on the commission, Jessica Rosenworcel. While she agrees with the faster review times for states and local governments, she does not agree with parts of the order that she fears will "run roughshod over state and local authority" and tell "state and local leaders all across the country what they can and cannot do in their own backyards."
"Supporting the deployment of 5G and other next-generation wireless services through smart infrastructure policy is critical. Indeed, upgrading to these new services will, in many ways, represent a more fundamental change than the transition to prior generations of wireless service. 5G can enable increased competition for a range of services—including broadband—support new healthcare and Internet of Things applications, speed the transition to life-saving connected car technologies, and create jobs. It is estimated that wireless providers will invest $275 billion over the next decade in next-generation wireless infrastructure deployments, which should generate an expected three million new jobs and boost our nation's GDP by half a trillion dollars. Moving quickly to enable this transition is important, as a new report forecasts that speeding 5G infrastructure deployment by even one year would unleash an additional $100 billion to the U.S. economy. Removing barriers can also ensure that every community gets a fair shot at these deployments and the opportunities they enable"-FCC
Considering that the FCC seems so concerned with the U.S. leading the global rollout of 5G, it would be surprising if the agency now turns around and decides to block
T-Mobile's $26.5 billion merger with Sprint
. The two carriers have draped their transaction in the American flag, saying that it needs to be approved in order to keep U.S. leadership of 5G technology. Both the FCC and the FTC must sign off the deal for it to close.
Recommended Stories