FCC on AT&T's decision to charge users for FaceTime: "we will exercise our responsibilities and we will act"
17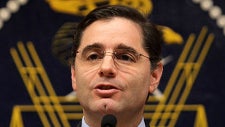 The iPhone is the most prolific smartphone in the United States, and that's one big reason why it's disturbing to see AT&T decide to charge users for using its otherwise free video calling feature FaceTime.
Many users have complained, and rival carriers Verizon Wireless and Sprint have made the situation even more frustrating for AT&T as they confirmed they'll be offering the service for free. Problem is AT&T is using a technicality, a literal way into reading a not-perfectly-written law. And now, the Federal Communications Committee confirmed that it would review complaints about AT&T's controversial decision.
FCC Chairman Julius Genachowski said that if AT&T doesn't respond to the commissions attempts to resolve the problem and "doesn't lead to a resolution and a complaint is filed, we will exercise our responsibilities and we will act."
Net neutrality folks and users in general should be quick to address the FCC with a formal complaint. They have all stressed that FCC's Open Internet rules ban randomly limiting services like FaceTime over particular networks.
source:
TheVerge