FCC gets visited by Samsung GALAXY Note with T-Mobile 3G on board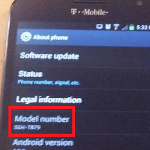 Back in April, a time period that oddly feels like ions ago before the introduction of the Samsung Galaxy S III and iOS 6, we told you about a couple of items that pointed to a version of the Samsung GALAXY Note for T-Mobile. One was a
leaked photo that actually showed the phablet branded with the T-Mobile logo
and
tagged as SGH-T879
. The other was a leaked photo of the device's "About Phone" page
which also showed the same model number
. Now it appears as though the SHG-T879 has visited the FCC and lo and behold, it is the Samsung GALAXY Note with all
5.3
inches of that display and 3G connectivity to the nation's fourth largest carrier.
with the 1700MHz HSPA connection for T-Mobile
, as well as connectivity for 850MHz and 1900MHz. But before T-Mobile customers with a hankering for the large get terribly excited, it is a possibility that the 1700MHz band will be for Canadian carriers Mobilicity or Wind Mobile. On the other hand (there's ALWAYS another hand it seems) we have seen those snapshots of the T-Mobile branded GALAXY Note.
Naysayers (there's ALWAYS a nay...oh, never mind) might say that T-Mobile is too late to the phablet party and besides, the
much more eagerly awaited Samsung Galaxy S III and its 4.8 inch display is the superior device
. To those people who think the glass is half empty, we'd say that if T-Mobile wants to offer the Samsung GALAXY Note, that is entirely their business. And yeah, the Samsung GALAXY Note
didn't appear in the last T-Mobile road map
, but then again, neither did the Samsung Galaxy S III.
source:
FCC
via
Engadget