FCC claims "bill shock" almost extinct
13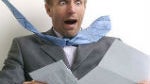 No one wants to open up a cell phone bill and find out that they have some crazy charges on it, and with that in mind, the FCC pushed carriers to adopt new policies which would minimize "bill shock". The policies were put in place to push carriers to warn users when they were coming up on their minute or text limits, and it looks like it's been working.
Today was a deadline in the rules where carriers had to have put in place warnings for customers on at least two of four components: voice minutes, texts, data usage, and international roaming. The final deadline is April 17th of next year, when carriers have to provide alerts for all four items. Ten major carriers in the US including all four of the top tier (Verizon, AT&T, T-Mobile, and Sprint).
The breakdown is a bit odd though, because international roaming is considered one of the four even though it is actually 3 items, because roaming should be split into voice, texts, and data. All of the big 4 carriers offer alerts for international data roaming, but only Verizon also offers alerts for international voice and texts (except in Canada). All of the big 4 also offer domestic data alerts, which is enough to meet the requirements, but only Verizon has alerts for domestic voice and texts.
So, the FCC is claiming that "bill shock" is almost gone, but 3 of the big 4 carriers don't have alerts on voice or texts, which leads us to believe that the FCC's rules may have a bit less to do with the drop in reports of "bill shock" and maybe it has more to do with the rise of unlimited plans. The two biggest contributors to bill shock have been data charges and messaging, but messaging is more and more bundled as unlimited. Of course, this is US only, so it doesn't take into account the
11 quadrillion euro
bill a woman got last week, and you can only be shocked if you're alive, so the
dead man
who got a bill also wouldn't be affected by these policies.