FCC approves new Disney Mobile phone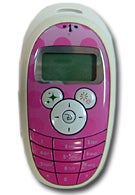 Correction: Disney Mobile notified us that the D100 handset will not be sold in the US, but in South Africa and Europe.
The FCC has approved the Disney D100 handset which is a quad-band GSM phone. The child device measures 3.89 x 2.02 x 0.95 inches (98.7 x 51.3 x 24.2 mm) and it has a Disney dedicated design as the navigion, Answer and Reject buttons are arranged in a Mickey Mouse shape and the housing features a Winnie the Pooh image. The 12-button keypad of the D100 phone can be exchanged with a four-button one and the device also supports parental control just like the FireFly phone and the LG Migo. The featured security levels are normal and administrator and the latter one is the mode that you need to use in order to do any changes in the phone, like adding a contact for example. Some additional features enable parents to limit call times with the virtual timer function and they can also set "school hours" for when the phone should not ring.


Source:
FCC