FCC Chairman puts the kibosh on the 2013 plan to allow cell calls on planes
4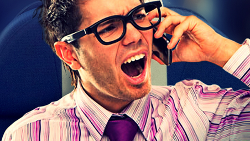 Back in November 2013, there was talk that the FCC was going to allow
cellphone users to make calls using their handsets while on a commercial airplane
. Today, FCC Chairman Ajit Varadaraj Pai, who was appointed to the post back in January by President Donald Trump, announced his intention to take the proposal "off the table permanently." This is considered to be a victory for those who were worried about having to hear conversations going on while stuck inside an aircraft.
Besides having to hear conversations at 30,000 feet with no escape (unless you call hiding in an impossibly cramped bathroom a place to hide), the airlines would have faced the potential loss of revenue from passengers whom pay good money to the airlines to use Wi-Fi.
Back in 2013, then FCC chairman Tom Wheeler said that even if his actions resulted in lifting the ban, it was up to each airline to decide whether to allow the calls. The FCC subsequently received 1,425 comments about lifting the ban and the majority was in favor of keeping it in place. And that appears to be what new chairman Pai has in mind. Unless you're willing to shell out some hard earned money to use the Wi-Fi network offered by your air carrier, you can forget about having a conversation while relaxing in the clouds.
"I stand with airline pilots, flight attendants, and America's flying public against the FCC's ill-conceived 2013 plan to allow people to make cellphone calls on planes. I do not believe that moving forward with this plan is in the public interest. Taking it off the table permanently will be a victory for Americans across the country who, like me, value a moment of quiet at 30,000 feet."-Ajit Varadaraj Pai, chairman, FCC
source:
FCC
via
Phonescoop