FCC again considering letting you make cell phone calls on U.S. flights
4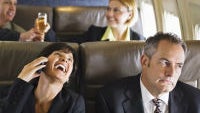 The FAA recently realized that the ban on tablets and e-readers during a flight was completely silly and
changed that rule
. Now, a new report is saying that the FCC is revisiting the rules that ban you from making a phone call on your cell while on an airplane. This isn't the first time the FCC has looked into the issue, which has seen the ban stay less for technical reasons than for social reasons. The FCC looked into this issue back in 2004, but decided to retain the ban in 2007 because phone calls would be a "nuisance".
We've all been on the bus or the train with that one person who doesn't have basic social courtesy and decides that it is perfectly acceptable to
shout
a conversation on their phone, and often if that person doesn't much care for volume control, they don't have many boundaries in terms of the content or language of said conversation. That is the main reason why the ban is still in place, but
The Wall Street Journal
is saying that the FCC is looking into lifting the ban on calls and the use of mobile data once a plane has reached an altitude of 10,000 feet.
The phone call side of the equation is more of a social acceptability issue, but the mobile data side of the equation does have some technical considerations. Namely the fact that even if the FCC were to lift the ban on mobile data in flight, airlines would have the choice whether or not to install equipment which would give you a usable signal. Given that more and more airlines are offering (and charging for) in-flight Wi-Fi, that would mean airlines would be spending money with no returns, and may even cut into their own revenues in doing so.
Delta Airlines has already said flat out that it would not allow phone calls, because "Years of customer feedback" show that "the overwhelming sentiment is to continue with a policy that would not allow voice communications while in flight." JetBlue said that it was open to re-evaluating its policies, because it understands that social norms change over time.
Recommended Stories