Endless possibilities: eyeglass company makes cool use of the iPhone X Face ID sensors
6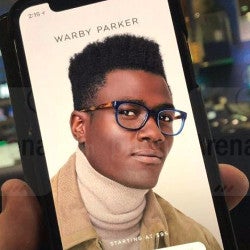 So, the
iPhone X
doesn't have Touch ID, it has Face ID — you know this, you're not living under a rock. The new face-mapping technology projects 30,000 IR dots on your face and scans them to create a true depth capture of what your face looks like. The sensors are also used for the new Animoji feature — emoji that follow your facial expressions — and selfie portrait, which enables the frontal camera to produce photos with blurred backgrounds.
OK, but what if you put Touch ID sensor controls in the hands of developers? Well, turns out, some really useful applications can come out of it.
Warby Parker is a US-based eyewear company, which primarily sells online. Since it's tough for customers to try out its products, the seller has customer-friendly policies like a "5 pairs for 5 days free trial", where you get 5 sets of glasses that you can try out and choose which ones to keep at the end of the 5-day deadline.
Naturally, Warby Parker also has an app that allows you to sift through their catalog and pick the glasses you like. But which ones have the best chance of fitting your head?
After the most recent update, the Warby Parker app will actually use the Face ID sensors to measure your face and instantly suggest the best-fitting glasses. Then, it's your turn to pick out the ones that look the best to you.
So, this is definitely useful and exciting. What else could app developers come up with?
Warby Parker using the iPhone X TrueDepth camera is super super smart: pic.twitter.com/LgHpO8hfUx

— Joanna Stern (@JoannaStern) November 7, 2017