Extremely blurry shot supposed to show an LG WP7 handset coming to Sprint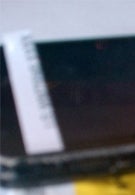 A beyond blurry picture has appeared as a post on a webOS forum, of all things, and the uploader claims that this is a new LG Windows Phone 7 device, which will be able to take advantage of Spint's 4G-like WiMAX network. We can't vouch for any of these claims, as the rumor is as shady as they come, but the author is clarifying that he had only a few seconds to take a picture of the device, hence the blurry image.
Some are saying it might be the
LG Apollo world phone rumor
, since it is supposed to have Sprint's CDMA (EV-DO) frequencies, but nothing was mentioned about 4G then, and, frankly, we'd rather wait for additional info. Sprint is only letting top-notch phones on its 4G network, though, and the Apollo is supposed to have 1.3GHz chipset and 10MP camera, so in that respect it seems like a worthy contender for Sprint's WiMAX lineup.
Call that a teaser. Hopefully there will be more sooner rather than later.
source:
WebOSWorld