Exclusive: Verizon stores are beginning to receive the Samsung Fascinate
This article contains unofficial information.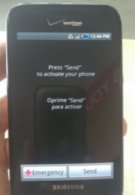 The time is nearing as certain Verizon Wireless stores nationwide have begun to receive shipments of their next high-end Android device – the Samsung Fascinate. Sure it's the last of the major carriers to launch a variant of the almighty Samsung Galaxy S, but nonetheless will supplement Big Red's vast Android smartphone lineup.
One of our tipsters managed to snap images of the device in question, however, it seems as though they're unable to activate them until this
upcoming Thursday
, when it is expected to go live. Looking pretty much faithful to the original's design, you can easily notice on the rear that its camera is packing along a much needed LED flash unlike the Samsung Captivate and Vibrant. Now that it's starting to infiltrate stores, customers who've been extremely patient in holding off their next handset purchase can look to September 9th as being the day.
Samsung Fascinate Specifications
|
Hands-on
If you have some interesting info that you'd like to share with us, feel free to
Tip Us!