Ex-Google employee creates Chadwick - real-time sports coverage app with a twist
2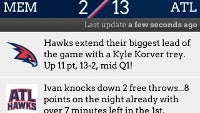 Nikolai Yakovenko used to work as a software engineer for Google Search, but now has focused his attention on making modern sports apps with real-time updates.
Called the Chadwick Project, the first app cover's Nikolai's favorite NBA, and it approaches things from a slightly different perspective than other apps. Being an ex-Googler, and realizing how we are relying more and more on Twitter, Facebook and other social media updates while watching a game, he decided to aggregate several sources for a real-time game coverage.
By using AI search similar to Google's creepy crawly bots that hop from a website to a website, he manages to extract the most relevant tweets or other comments from famous sports pundits or simply fans, and mixes it with live stats, for the fullest possible picture of a game in development. The idea is to have any game change served to you in a curated manner, putting it in context with your interests, Yakovenko says, as you can for example choose to see local sports commentators, or updates from a national celebrity in the field:
It's difficult to do sports reporting well, and the difference between an excellent sports reporter and the rest can be dramatic, so the advantage of Chadwick, for sports fans, is that they have access to instant reporting for every game, without the mistakes and without missing a play.
Sounds promising, and the app is up and running in the Play and App Store to check out during your next NBA session. Next stop for the Chadwick Project is, naturally, football.