Ex-Apple CEO John Sculley may be considering taking over BlackBerry
17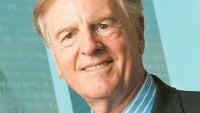 John Sculley was the man who took over Apple when Steve Jobs was pushed out of the company he founded in the mid-1980s. Sculley is also widely regarded as the man who started Apple's downward spiral while Jobs was gone, a tailspin which two successive CEOs could not pull out of until Jobs resumed his place as CEO of Apple. But, Sculley may think he's the man to help save the floundering BlackBerry.
Apparently, Sculley has been a longtime fan of BlackBerry and recently said of the company, "there's a lot of future value in Blackberry," but that "without experienced people who have run this type of business, and without a strategic plan, it would be really challenging." It's unclear if Sculley thinks that he is the man for the job, but it is being reported that he is "exploring a joint bid" for the company.
BlackBerry has been rumored to be sold for over a year now, and recently it made a deal for
$4.7 billion
from Fairfax Financial Holdings, which would make the company private once again. However, even once that deal is finalized (which is expected to happen in the coming weeks) BlackBerry could still sell the entire company or split it into parts for sale. And word has it that BlackBerry is still attracting interest from companies like Lenovo, Cisco, and Google.
Recommended Stories