Evidence of a Microsoft Surface Phone reportedly found
39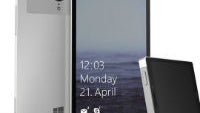 The rumors have long held that Microsoft is indeed working on a Surface Phone, but it hasn't really gotten much beyond rumors and speculation. This time though, a reporter is claiming to have seen evidence at Microsoft's headquarters directly proving that a Surface Phone is still in the works. Unfortunately, we just have the word of the reporter to go on.
Luckily, the reporter in question is David Pierce, formerly with
The Verge
and currently working for
Wired
, so he's a pretty reputable source. According to Pierce, Microsoft was in the process of building a prototype phone "a few machines away" from where Microsoft was building the Surface Book laptop. Pierce didn't directly say it was the fabled Surface Phone, but he also didn't indicate that it was in any way related to Lumia branded phones, and the prototype was being built by the Surface team, which means a lot.
Still, if it is only in prototype phase, we would expect that the earliest we might hear an official announcement by Microsoft on a Surface Phone would be in 2016, which matches up to an extent with the timeline on
previous rumors
. Although, the rumors that the Surface Phone might be announced in early 2016 seem unlikely, because Microsoft would need to be past prototyping and on a final design by this point in order to hit that window.