Everything.me is an Android launcher that transforms your homescreen depending on your current interests
12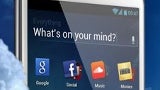 Here's a cool idea: imagine if your phone's homescreen could change dynamically, depending on your current interests, mood, location and so on. Wouldn't that make for a much more intriguing and fun experience? Well, certainly not, if the idea isn't executed the right way, but the guys from Everything.me seem to be getting very close to getting it right.
The Everything.me Launcher (still in beta) aims to make your smartphone experience that much more dynamic, and the only thing that it requires from you is to tell it what you need/want/like right now, by using the search widget on the homescreen. Let's that you want to order Sushi from the best possible place around. You either type "sushi" or just say it using the search widget, and all of a sudden, your wallpaper will display a tasty plate of sushi, while your homescreen apps will be replaced with ones that will let you order or read about sushi. What more, upon opening an app like Yelp, for example, it won't display its homescreen, but will show you the relevant information you need about sushi.
The developer's idea for the Everything.me Launcher is that it should make your phone dynamic, adapting to your current needs or situation. And we have to admit, the idea really sounds awesome. For the time being, the launcher seems to be handling most of the users' requests pretty well, though there are some complaints that it lacks its own customization panel. Well, hopefully they'll add this soon, seeing that it's still in beta. Give it a try using the source link below!
source:
Everything.me (Play Store)
via
AndroidGuys