Ever wonder what the bacteria on your handset looks like?
17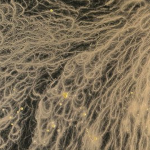 Students taking the undergraduate
Practical and Biomedical Bacteriology class
at the University of Surrey were given an assignment to imprint their handsets on to a petri dish and then culture the bacteria that grew. According to Simon Park, the professor teaching the class, most of the bacteria that grew was harmless stuff, although rather gruesome looking under a high powered microscope. The
Micrococcus species
, found on your skin, showed up in the dish, but so did some disease carrying bacteria such as Staphylococcus aureus. Park wasn't surprised since 20% of us carry that around at all times.
Interestingly, non-touch phones tended to have most of its growth by the keyboard while touchscreen models were teeming with bacteria all over the handset. It's enough to make you want to reach for an antibacterial wipe before you touch your phone again!
source:
Wired
via
CNET