Escape from Montegrande is about dodging police and combusting horses down a snowy ski-slope... yes, it's fun!
2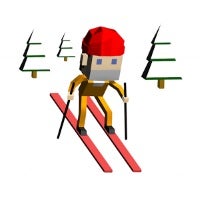 You live in a world that looks like Dire Straits' video for "Money For Nothing". You are also a prisoner left to rot in Montegrande, this world's largest prison built atop a snowy mountain. One day you wake up in your cell, and a bomb goes off. It's now or never! You bust from the window amidst explosions and sirens, and down the slippery slope you go in a bid to reclaim your freedom.
This is the premise of Escape from Montegrande, which we'll fondly proclaim the world's best skiing mobile game. It's one of those fast, addictive, ridiculously funny games that shouldn't be played for more than five minutes, yet you start and can't put it down. The controls are super-fluid (just don't forget to hold your finger to your device's screen, and the game's speed is a perfect balance between maintaining control and all-out hyper-skiing chaos.
You are not alone on your way down Montegrande. Skiing police officers are on your tail, playing catch-up with deadly speed. Luckily, both of you are not immune to the many, many obstacles the track is littered with. There are wild animals - horses and deer - that you can crash into, and sometimes they explode. Trees slow you down if you can't dodge them on time. Wooden houses, lines of explosive barrels, ramps, and the occasional Yeti also shows up randomly for your grisly entertainment. In addition, you can get weapons, such as a slingshot that's more akin to a grenade launcher, a watering can to instantly grow trees, and the coveted "Horse Power", which makes all the horsies go boom. It's terrific fun!
Escape from Montegrande is out and about on Android (free with ads) and iOS ($1.99). Don't miss it if you're into polygonal, horse-exploding ski action. Also, be sure to see the trailer, because the screenshots don't do the game justice.