Epson Moverio BT-100 glasses come from the future: see-through glasses powered by Android, now available
10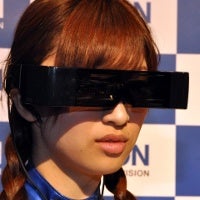 If you thought having a smart display integrated inside your glasses was a part of our distant future, you'd better think again - the Epson Moverio BT-100 come straight from your dreams. Controlled by an Android-infused gizmo, you can buy them now for the salty price of $699 and make your best Robocop impression scaring passers-by on the street.
The Moverio BT-100 projects an 80-inch perceived "floating" display that you can use for browsing the web, playing games, watching videos and pretty much everything while still seeing the outside world. The Android-powered controller comes along with Wi-Fi connectivity, so you can easily browse the web.
The unique video glasses are definitely something we can imagine going into our daily lives, but they'd need to get much smaller to match most people's tastes. Hit the source below for all the details and don't forget to share your feelings about this new Android-powered gadget in the comments below.
Epson America Ships World's First Android-Based See-Through Wearable Display
EPSON Moverio BT-100 See-Through Display Offers New Way to Interact with 2D and 3D Digital Content and Innovative Platform for Android-based App Development
LONG BEACH, Calif. — March 28, 2012 /PRNewswire/ —Epson America, Inc. today announced its newest and most innovative display technology, EPSON® Moverio™ BT-100, the world's first Android-based see-through wearable display. Using micro-projection technology and an Android-powered track-pad controller, Moverio allows users to view streaming video, experience side-by-side 3D content and enjoy downloaded digital content on a virtual 80-inch perceived screen¹ projected into the user's real environment. Featuring built-in Wi-Fi® connectivity² and nearly six hours of rechargeable battery life³, Moverio offers an innovative, portable way to interact with content from virtually any location. Users can also easily access downloaded content via the microSDHC card slot (4GB card included) and built-in 1GB internal user storage, even without wireless network access.
"As the world leader in visual imaging technology, Epson continually strives to set industry benchmarks for quality and innovation," said Anna Jen, director of New Business Development, Epson America. "The Moverio BT-100 see-through display is poised to significantly impact not only the way people interact with content for personal enjoyment, but the development of content for future applications – from virtual training platforms to a new way to interact with 3D CADenvironments to visualizing 3D design renderings."
Enhanced Mobility and New Content Interaction
Moverio BT-100 leverages Epson's leadership in LCDtechnology and visual imaging to project an 80-inch perceived "floating" display into the user's environment for browsing the web, playing games, watching videos and interacting with content privately, while still allowing the user to experience and see the real world. Using Moverio's Android-powered controller with Wi-Fi connectivity, users can watch streaming video from sites such as YouTube or Vimeo or manage, download and interact with apps and content from nearly anywhere. Additional features of the Android-powered controller include:
Enhanced Mobility: Rechargeable battery offers nearly six hours of battery life
Removable Memory: Built-in card slot supports up to 32GB microSDHC card
Download and Go: Transfer content, games and apps to the included 4GB microSDHC card or internal 1GB of user storage on the controller
Adobe® Flash® 11 Support: Stream videos from popular television websites featuring Flash 11 content and content rich Flash-enabled websites
Big Sound: Dolby® Mobile surround sound delivered to personal earphones or Moverio's detachable earphones (included in-box)
Innovative Navigation: Touch-enabled track pad and navigational buttons enable easy interaction of content
Immersive 3D: Enjoy side-by-side 3D content like never before
Android Development Support
Moverio BT-100 offers a unique platform for technology enthusiasts and developers to create new Android-based applications and side-by-side 3D content for this innovative see-through display technology. To help support application and content development for Moverio BT-100, Epson is offering a range of programs for developers residing in the United States. For additional information on the Moverio BT-100 Android developer program, please visitwww.epson.com/moverio.
Pricing and Availability
The EPSON Moverio BT-100 ($699.99 MSRP) is now available through Epson's own retail site www.epsonstore.com, select resellers and by pre-order on Amazon.com.
About Epson
Epson is a global imaging and innovation leader dedicated to exceeding the vision of customers worldwide through its compact, energy-saving, high-precision technologies, with a product line-up ranging from printers and 3LCD projectors for enterprise and the home, to sensors and other microdevices. Led by the Japan-based Seiko Epson Corporation, the Epson Group comprises more than 78,000 employees in 99 companies around the world, and is proud of its ongoing contributions to the global environment and the communities in which it operates. To learn more about Epson, please visit:http://global.epson.com.