Epic times ahead for smartphones and tablets
26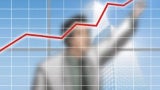 Research firm Gartner's latest report regarding the future of smartphones and tablets is just as cheerful as its last one. According to the company, smartphone and tablet sales will reach 1.2 billion devices next year, which is another substantial increase after this year's expected 821 million devices.
A big focus of this new Gartner research is how businesses are embracing mobile devices. Basically, businesses are expected to invest a lot in mobile devices in the following years, with yearly tablet purchases estimated to grow by three times by 2016, which should equal about 53 million units.
Gartner foresees an easy third place for Windows 8-powered tablets, following Apple and Android, who are said to be the big winners. It seems like transitioning Windows to a more touchscreen-oriented OS was very wise by Steve Ballmer and company, as Gartner believes that it is exactly tablet devices that will allow Windows 8 to penetrate deeply into the business market. The reasoning behind this is that businesses are typically more careful when it comes to updating their desktop PCs to new versions of Windows.
In terms of smartphones, though, Android is to continue popping up in employees' hands. By 2016, the Android handsets in the business environment should account for about 56%, up from today's 34%. Still, Gartner seems convinced that Apple's iOS will not lose market share to Android, and it, too, will actually continue to gain.
via:
TechCrunch