Entry-level Samsung Galaxy Ace Style smartphone available worldwide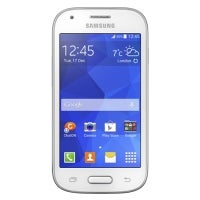 Galaxy Ace Style, the entry-levelpipsqueak which Samsung unveiled last week in Germany, is nowavailable worldwide. The smartphone runs the latest Android 4.4 /TouchWiz combo, but apart from that, it's one of Sammy's modestestofferings. The handset has a 4-inch 480x800 (WVGA) TFT display, adual-core 1.2GHz CPU, a mere 512MB RAM, 4GB of storage space, a pairof 5MP auto-focus rear camera and 0.3MP fixed front camera, and ispowered by a 1500mAh battery. According to Samsung, this is a phonefor the "young, expressive consumer".
The new Samsung Galaxy Ace Style willbe available globally in Cream White and Dark Gray beginning inApril. According to a Samsung rep, the European price will be between$276 to $413 (200-300 EUR). Pretty underwhelming, considering howmuch the Moto G offers for less than $200 in the US, and $223 (£135,163 EUR) in Europe. Hopefully, the Korean giant will appease theentry-level segment with something more generous.
source: SamsungTomorrow