Engineer behind iPhone comes up with an easy way to make your home appliances smart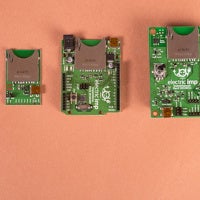 You might have heard that what comes after the smartphone revolution is smart everything - our futuristic dream world comes with home appliances hooked up to the Internet, and everything in your house truly controllable remotely. Now, the engineers who brought you the iPhone took on the daunting task to bring the future into the present, and made a big public debut today as
Electric Imp
, makers of the Imp chip.
Priced at a mere $25, each Imp card is a fully programmable platform rather than a gadget. You can install it to just about anything in your home, and appliances should be your first guess. The card itself features a Wi-Fi antenna and a processor. So what can you do with it? You can have your washer text you when it's done, turn the lights off from your phone and so on. It's really up to you. Initially, the company will sell a few custom designs as an illustration of the idea, but the freedom is in developers' hands.
Probably the best thing about the Imp cards is that they are completely platform-neutral, so you don't need to have an iPhone, or Android to control it (you'd still need a device that can access the web, though). Installation and communication with devices has been reported to be also slick.
The first developer bundle will arrive in late June. The cards will retail for $25, and a basic circuit board is said to set you back $10, while a more complex will be priced at $20. Stay tuned.