Editing Word, Excel, and Powerpoint files on the iPad Pro will require an Office 365 subscription
6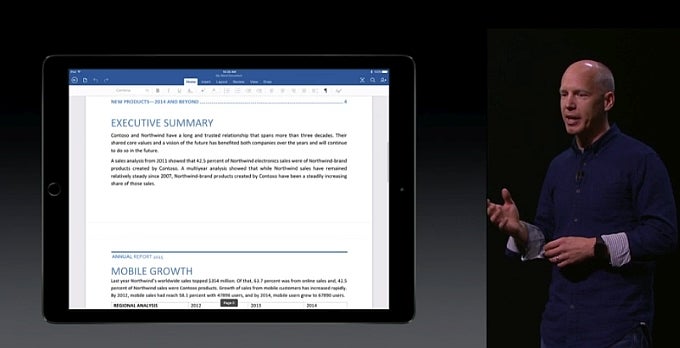 When Apple finally
unveiled the iPad Pro
a couple of weeks ago, Microsoft's Office suite was one of the productivity-centric features that Apple focused on during the official presentation. In fact, Apple actually went as far as to invite Microsoft's Kirk Konigsbauer on stage to demonstrate how Office apps run on the iPad Pro. However, it turns out that editing Word, Excel, and Powerpoint documents will require a subscription to Office 365.
As recently pointed out in an ArsTechnica report, Microsoft specifically mentions throughout the licencing terms of its Android and Windows Metro apps that the mobile Office suite comes with free editing capabilities only on devices with 10.1-inch displays or smaller. To do more than just view documents on devices with larger displays, such as the 12.9-inch iPad Pro, Microsoft wants you to spend money on an Office 365 subscription to do more than just view documents. Although a glimmer of hope still resided in the fact that language used in the licensing terms of the iOS Office apps is less explicit, Microsoft has confirmed that editing documents inside the Word, Excel, and Powerpoint apps for the iPad Pro will require an Office 365 subscription.
With the cost of Office 365 subscriptions starting at $6.99 or $6.99 per year, this will surely come as bad news to those who were hoping to get free editing capabilities on the 12.9-inch Apple iPad Pro.
What do you guys think of this latest development? Will this affect your decision to purchase the productivity-oriented iPad?