Eddy Cue: Apple Music to match 100,000 of your personal tunes for streaming
6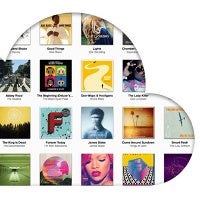 Right now, the
iTunes Match
service of Apple allows you to get 25,000 of your own tunes up in the iCloud, and those don't even have to be purchased from iTunes. This matching service will get a steroid boost for Apple Music customers, it seems, as Eddy Cue tweeted you'll be able to stream 25,000 of your uploaded tracks when iOS 8.4 hits tomorrow, but by the time iOS 9 arrives in the fall, the number could climb up to 100,000.
That's a pretty generous offer no matter how you slice it, though Google offers the same matching service for free in its own Music streaming service offering. Still, Apple Music users will have iTunes Match integrated, so whenever there's an album you obtained from outside of iTunes, you can upload it, and listen to it from one and the same app on your iPhone, iPad, or iPod touch. Apple Music will be landing on your devices along with
iOS 8.4
, which starts rolling out at 8 am PST tomorrow, June 30.
@karlfranks@robmsimoes 25k for launch and working to get to 100k for iOS 9

— Eddy Cue (@cue) June 27, 2015