Early to bed and early to rise? Not if you have a smartphone, study says
12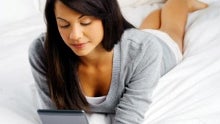 If you are having trouble falling asleep before midnight and waking up fresh for work on the next morning, your smartphone or tablet may be to blame. After the
first study of sleeping pattern disruptions
because of the melatonin drop resulting from screen light, now another one comes in to confirm the conclusions.
Professor Shantha Rajaratnam of Monash University went on to examine sleeping patterns of avid phone and tablet users in bed, and reached the same conclusion - that the lit displays are messing up with our bodies' sleep cycle. The closer we hold the light to our faces, it turns out, the worse it gets, and we can't fall asleep before reading that last piece of news from Egypt, tweeting that last nonsense, checking that last car classified, or whatever we are into at the moment.
If you want that pattern to stop, the simplest solution seems to be just ignoring your gadgets each evening after a certain time, but it's much easier said than done, of course.