Early pre-orders for the Motorola ATRIX 4G are slated to be delivered February 21st
24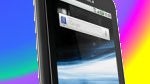 One of our tipsters managed to send us some inviting pieces of information regarding the delivery of the Motorola ATRIX 4G. For those who managed to fetch a pre-order on the
first day they were made available online through AT&T
, it seems that they're going to be receiving the high-powered device
a day earlier than the anticipated February 22nd arrival date
.
Although AT&T mentions that the smartphone "
is still scheduled to be delivered as early as February 22nd, 2011
," the supplied FedEx tracking number shows that it's slated to be delivered
Monday, February 21st, before 4:00 PM
. Needless to say that there are going to be some people getting the chance to show off the device a bit earlier than others.
In any event, it's only a matter of getting by the weekend before we start seeing people walking on the streets showing off all the impressive things about the breakthrough device of CES 2011.
Thanks Lafayette!