Early deal from Mint Mobile: Three months of service with 5GB of data for $20 total
3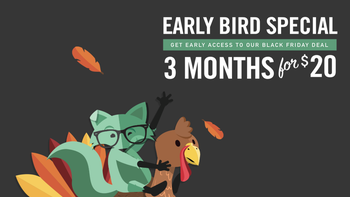 Black Friday is almost upon us, but some companies want to get your attention by offering their deals a day or two earlier. Such is the case with the MVNO carrier Mint Mobile. Knowing it will probably get buried by all the major offers tomorrow, the green fox is letting you save cash starting today.
Mint Mobile offers a three-month plan that includes 5 GB of data per month and unlimited text and talk for $20. That's not $20/month, which is the usual price for that plan, but $20 for the whole three months, saving you $40 or 66.6%. As it's common with such offers, they're valid only with a new activation, meaning existing customers won't be able to shave off two-thirds of their monthly bills.
Mint Mobile lets you keep your number and if you're not satisfied with the service at your location, you can make use of the 7-day money back guarantee and return the SIM card.
While there's a countdown clock on the carrier's website that might make you think the deal is ending soon, the
promotion terms and conditions
state that it will continue until January 1st, 2019, so if you have some time left on another contract, there's no need to hurry.
Mint Mobile is using T-Mobile's GSM network, so if your phone only supports CMDA (the network type used by Verizon and Sprint), it won't work with Mint's SIM. And if your device is compatible and that offers sounds interesting to you, get it from the link below: