Dwight Schrute from "The Office" talks up a triangular tablet in a hilarious Dunder Mifflin skit
5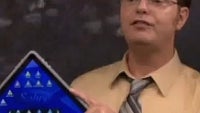 The Dwight Shrute character from NBC's famous TV Series "The Office" has always reminded us of Wile E. Koyote going after the Road Runner bird, and breaking his head numerous times in the process. Now he is going after the tablet craze.
In last night's episode he tried to introduce Sabre's latest sales idea before the ragtag crew in "The Office", forcing it on his Dunder Mifflin colleagues. The thing is called the Pyramid since it is...
triangular
, of all uncomfortable tablet shapes possible. It is also heavy, bulky and has a poor battery life. Of course, Dwight Shrute is confident this will sell like an iPad 3, and is willing to bet his farm on it.