Dude, where's my car? Apple Maps on iOS 10 will have the answer
27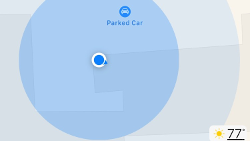 Ever since references to parking pins were found in iOS code, we have been expecting Apple to roll out the dude-where-is-my-car feature for its Maps software to no avail. Those parking pin mentions for the iPhone and iPad were
found back in 2014
, but Apple Maps is still not able to mark and then locate where you parked, unlike, say, Google Now, which has had a card that reminds you where you stopped last since forever.
Well, it seems that with
iOS 10
, Apple will introduce the find-my-car option directly into the Maps app, throwing a pin there automatically if your trip doesn't end up at your designated Home location. That's pretty useful if you have the habit of strolling the mall for hours, then suddenly are at a loss where you parked, or if you have to drive around a place downtown until you find an obscure spot that is hard to come back to afterwards - we've all been there.
This, together with the new toll and highway avoidance options, add not only to the Maps utility, but to the
smorgasbord of little improvements
that make iOS 10 one of the best mobile software updates from Apple so far.