DropTag will keep tabs on your checked baggage or package and send updates to your smartphone
2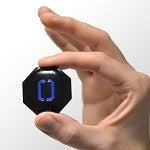 We have seen videos of baggage handlers and package deliveries take a turn for the worse. The problem is that often it is difficult to pin down who did what, and when to your stuff while it was in transit.
Baggage handlers at airports have earned infamy for poor handling of personal luggage, although they are not the only source of potential damage to checked baggage. Turbulence during the flight or a broken stow in the cargo compartment can shift things around and potentially cause damage. That fancy whiz-bang gadget you just ordered has its challenges as well. Maybe the delivery driver is having a day of lapsed judgment decides to play soccer with your package. Or, maybe things get bumped around at the sorting facility.
It would be pretty cool if you could know just how well your package is being treated while it is in transit right? There are already devices that measure designated impacts for sensitive items, but they are either mechanical in nature (and often single use) or are super-sophisticated and thus cost prohibitive. DropTag bridges that gap with a Bluetooth connected telemetry tag that will provide real time updates to your device.
With DropTag, from the moment a package is shipped or a bag is dropped, you will be able to see how and when your goods are being (mis)treated. The company behind DropTag, Cambridge Consultants, is still developing the hardware and mobile application that accompanies it, but from the looks of things, they are well on their way to having a nice value-add piece for merchants and customers alike.
Cambridge Consultants expects DropTag to add minimal cost to the shipping, about $2 when it is all said and done. Customers will like it because they will be able to know if their package or baggage is in good hands. Merchants and distributors will like it because they can use it to augment quality controls throughout a distribution center. Cambridge Consultants will have DropTag on display at Hannover MESSE in April, but there is no word as to when it will be commercially available.
sources:
Cambridge Consultants
via
Red Ferret