Droid X2 confirmed to not receive ICS
89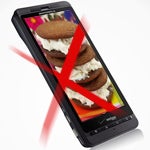 The
Motorola Droid X2
comes with a hefty dual-core Tegra2 chipset and debuted
less than a year ago
, but we can now confirm that it will not be getting an upgrade to Ice Cream Sandwich. The phone had never appeared on any of Motorola's
ICS upgrade lists
, but since it was listed as "in evaluation and planning" on Motorola's website some users held out hope that it would eventually get the update.
A response sent to a customer who made a Better Business Bureau complaint shows that the DX2 will indeed be staying on Gingerbread. The message is reprinted here in its entirety:
Dear Ivan,
I am responding to the complaint you filed with Better Business Bureau regarding our Droid X2 model phone. I reviewed your recent case notes and it is noted that you received information from Motorola regarding Bootloader unlock and Ice Cream Sandwich.
We are working to balance the operator requirement for security to the end user, while supporting the developer communities desire to use these products as a development platform. It is our intention to enable the unlockable/relockable bootloader currently found on Motorola XOOM on other devices, where carrier and operators will allow it. This process is requiring a good deal of consideration and technical infrastructure and we have no announcements to make at this time for unlocking any devices.
Droid X2 is not on our list of devices that are slated to get Ice Cream Sandwich, but that does not mean it is not continuing to get support. Though it will remain on Gingerbread it is eligible for software updates if it's determined that any are needed.
Thank You,
Dorothy Hodges
Corporate Consumer Advocacy Office
We think this is pretty disappointing – the hardware is clearly capable of supporting Android 4.0, so it seems pretty harsh that the phone won't get to see a major software revision that shipped six months after the phone. We imagine that perhaps the Droid X2 simply wasn't a hot enough seller to
justify the development time
, but that's still a bitter pill to swallow for those of you who picked one up. It also is a pointed example of how locking the bootloader hurts consumers - not only has Motorola and Verizon decided to not upgrade the X2, but they've done everything in their power to make sure you can't upgrade it either.
Do you have a Droid X2? Was the ICS update important to you, or are you content on Gingerbread? Let us know in the comments below.
source:
Droid-Life