Dragon Go! released by Nuance for the Android Market
3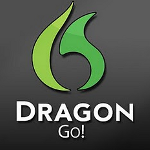 Now that Nuance
acquired the extremely popular swipe to type virtual QWERTY Swype
, what does the company do for an encore? How about offering up an Android version of its popular Dragon Go! With the app installed, users verbally tell their phone what they want to do, or want to know in plain English and they are
sent to the appropriate web site
to complete the task or to find an answer. Some of the sites that will work with the service include ESPN, AccuWeather, Facebook, Fandango, YouTube, Twitter and more.
also understands the words spoken
. The application listens to what you are saying and returns with the most relevant content on the Dragon Carousel with tabs that let you easily pick which content you want to see. For example, Ask for the best Thai food near you and your browser will head over to the
Yelp
tab for reviews on local Thai places, and bring up the phone tab so that you can call to check what specials are on the menu that evening.
Continuing with the dining example, ask to make reservations for two at a restaurant and Dragon Go! sends you to
Open Table
to book the table. You can then scroll over to
Google Maps
to get directions to the place. If you want to take in a movie afterward, mention the title and you are taken to
Fandango
to buy tickets, watch the trailer and read reviews.
Dragon Go! has been available for iOS users since July and has a number of fans who give it 4.5 stars. Now it is available in the Android Market ofr those with a smartphone running Android 2.1 or higher. Check out the official video from Nuance to see the app at work.
source: Nuance via
AndroidMarket