Fake news: No, Google did not buy Apple for $9 billion
19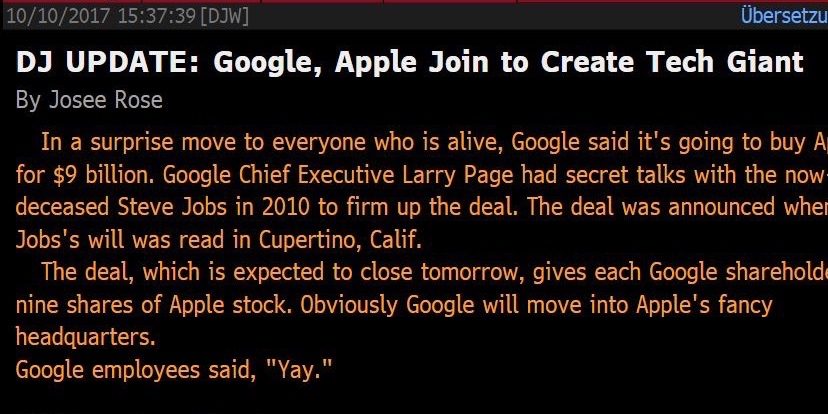 Wall Street almost got on fire earlier today, and not because of a deliberate arson but due to a rather curious mistake that would be quite far-fetched even for an April's Fools prank. A mishap of the Dow Jones newswire almost produced one of the biggest news in the technology space ever by claiming Google has acquired Apple for the rather lowly sum of... $9 billion, which is around a hundred times less than Cupertino's 2017 market valuation of more than $805 billion.
"In a surprise move to anyone who is alive, Google said it's going to buy Apple for $9 billion,"
the erroneous piece claimed.
"Google Chief Executive Larry Page had secret talks with the now-deceased Steve Jobs in 2010 to firm up the deal... Obviously Google will move into Apple's fancy headquarters. Google employees said, 'Yay'"
As such a buyout is obviously fake news, Wall Street did not buy into the erroneous report. However, Apple's shares soared to around $158 for a while but later on subsiding and closing at $155.84.
Dow Jones representative later on revealed that the headlines that got published "were accidentally published as part of a technology test" that took a wrong turn as these "were never intended for publication." An official statement from the company also urged readers not to buy into the erroneous claims:
"Please disregard the headlines that ran on Dow Jones Newswires between 9:34 a.m. ET and 9:36 a.m. ET. Due to a technical error, the headlines were published. All of those headlines are being removed from the wires. We apologize for the error."
Dow Jones CEO Wlliam Lewis also told Gizmodo that he is taking this inadvertent and erroneous publication of testing materials extremely seriously. "
While immediate corrective action has been taken, I have also ordered a review of news and technology processes in this area,"
the executive also said.