Does your city have T-Mobile's HSPA+ network?
6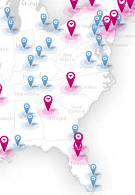 No, it is not officially a 4G network, but T-Mobile's HSPA+ has scored test results with speeds faster than Sprint's 4G WiMax service. With the nation's fourth largest carrier able to reach speeds of 21Mbps, the new network is backward compatible which means that even handsets that top out at 7.2 Mbps on plain vanilla HSPA should see some sort of speed boost with the new pipelines. T-Mobile has 15 phones in its current line-up that can take advantage of the faster speeds, including all of its Android phones. In theory, this means that the old, out of shape and liver spot covered G1 could best the Sprint EVO 4G if you are one of the 185 million people expected to be in the range of T-Mobile's HSPA+ by the end of the year.
As we recently
reported
, T-Mobile has just added 25 markets with another 50 coming soon. Some of those cities that are in the latter category include Miami, Phoenix, San Francisco, Denver, Chicago, Boston and more. Would you like to know if your city is currently getting HSPA+ or is due to receive it by year's end? Simply head to the source link and check out the map. And if your city is not one of the lucky ones, you can always move.
source:
T-Mobile
via
AndroidandMe