Do you plan to buy any of Sony's new smartphones? (poll results)
34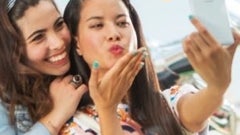 Last week, we reminded you of all the smartphones announced by Sony in the last three months:
Xperia C4
,
Xperia Z3+
,
Xperia Z4v
,
Xperia C5 Ultra
, and
Xperia M5
. The newest among them - the Xperia Z4v, Xperia C5 Ultra, and Xperia M5 - are not available to buy yet, but they will be released soon.
It looks like the Xperia M5 (which features a 5-inch 1080p display and a 21.5 MP rear camera with fast hybrid auto focus) will cost around $400, while the Xperia C5 (which sports a near bezel-less 6-inch 1080p screen) should cost a few tens of dollars less. Both are going to be available to buy starting the next few days and weeks in select markets.
As for the Xperia Z4v, this will be exclusively sold by Verizon Wireless in the US, but it's not clear exactly when the carrier wants to launch it, and neither for what price.
Meanwhile, an unlocked Xperia Z3+ can be bought for around $600, while an unlocked Xperia C4 costs about $380.
We wanted to know if you're planning to buy any of Sony's new handsets, so we made
this poll
. The results show that 933 of those who voted (57.95%) are thinking of purchasing a new Xperia, while the plans of other 677 voters (42.05%) don't include any of the devices presented above.
If you didn't vote while the poll was active, you can use the comments section to let us know if Sony's new smartphones are (or aren't) of interest to you.