Do you own a selfie stick? (poll results)
15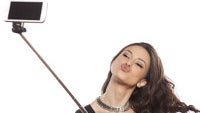 Do you own a selfie stick? That was the rather bold question we asked you yesterday. Why bold?
You need only take a stroll through the over 50 comments seen here
to realize just how controversial these accessories have become.
While some equate it with conceitedness, others agree that they can be useful in scenarios where you want to fit many people into a shot. Still, out of the nearly 1,700 votes that were cast in the past 20 hours, only 194 people (or 11.49%) say they own a selfie stick. Another 10.78% (or 182 people) say that while they don't own one, they'd like to. The remaining 77.73% of the votes were from folks that neither have a selfie stick, nor want one.
This might seem like a crushing defeat for the selfie stick, but considering just how niche its appeal is, we've got to say that we were actually impressed that so many people have one, and just as many want one. Do you agree?