Do you like the new OnePlus X?
13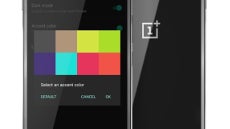 When the original
One
was unveiled, the OnePlus startup positioned it as the best value-for-money handset your cash can buy, and in paper it was indeed so. Fast forward a year and a half, and an invitation system creating long waiting lists, limited geographical availability, plus bugs galore, brought OnePlus back to Earth. The
OnePlus 2
successor, while having some unique twists both in terms of design and hardware, is now one of many affordable "flagship killers" coming from China.
The OnePlus X that just got official this morning, is the company's first attempt to diversify its smartphone line, with its external appearance undoubtedly one of the main selling points. The phone will be offered in two versions - glass-and-metal Onyx options, and a limited Ceramic edition, which will be more expensive and only offered in certain markets.
Reaffirming the design chops of the OnePlus X, its 140 x 69 x 6.9 mm dimensions are as good as they come for a 5-incher, so you will be getting a thin and premium midranger with fine specs for $249 when it
launches stateside come November 19th
. This is why we wanted to ask you if you like what you see, and maybe consider obtaining one when it lands. Granted, it is not spec'd as well as the
One A9
, but it's half the price, too. Take your pick in the poll below, and air your opinion in the comments.