Do you like Samsung's new Android Nougat UX for the S7 and S7 edge? (poll results)
8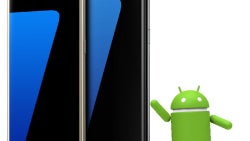 Last week, Samsung
unleashed
the
Android 7.0 Nougat beta
on our unsuspecting Galaxy flagships like the
S7
or
S7 edge
, and the TouchWiz of yesterday seems gone for good - not in the most visible part like home screen iconography, but in the settings, submenus and notifications shade.
That is why we asked you whether you are satisfied with the changes you see so far with the Android 7.0 Nougat beta for the S7 or S7 edge, both visually and under-the-hood, and, lo and behold, you seem mostly happy with how it turned out, at least from what we see in this pre-release version.
The brand new SamsungOne font makes the fresh UX look very different and more minimalistic, the clean and simplified settings list brings back fond memories of the
Note 7
's
Grace UX
, and the extra Always-On screen options from the deceased phablet are also brought in to sooth the mourning a little bit.
Samsung also brought over the new battery saver modes from the Note 7, but provided the screen resolution changes they contain as a standalone feature, too, and added different performance modes you can choose from, depending on what you want to do with your device. This is a pretty intriguing overhaul, and, given that a lot of ex-Note 7 owners are downsizing to a Galaxy S7 or S7 edge, it is important that Samsung does the Nougat update right.