"Distraction.gov" launched by the US government to promote awareness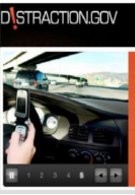 Sometimes there isn't too much awareness around the consequences of various phone related distractions during the operation of a moving vehicle. All too often we hear, read, or watch television shows that show the impact of what can occur when someone is text messaging or chatting on the phone. The US government, with the aid of the Department of Transportation, has taken a bold step in launching an educational web site aimed to reveal the problems of distracted driving. Not only does it include mobile phones, but other distractions from various electronic gadgets.
The web site offers videos, statistics, and useful information about specific state laws. "Distracted driving" is defined by the site as "anything that takes your eyes off the road for more than 2 seconds, takes your hands off the steering wheel, or interrupts your concentration while driving." It's filled plenty of information and can come in handy in trying to change specific behaviors exhibited from friends or family members which you see as distracting while driving.
source:
distraction.gov
via
Insideline