Distracted by their phone: woman falls off a pier, girl stuck in a trash chute
24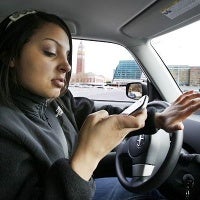 If having a smartphone is that much of a distraction for you, you might be better off without one. This definitely applies for the two women that made it to the headlines by falling off a pier and getting stuck in a trash chute.
First comes Michigan's Bonnie Miller who took an
accidental plunge into the waters off a pier
after being so distracted texting and walking she wasn't well aware where she was going to. She was taking a walk with her husband and sone when she remembered she'd set an appointment wrong and strayed to text someone about the error. She typed her third word as she stumbled and fell off the pier. Her husband jumped in to help and her son stayed by the side of the pier helping out as well until the Coast Guard and firefighters came to rescue her.
Miller said she was embarassed, but wanted to warn other people. Sadly, the rescuers couldn't save her phone, but that might be more of a good thing.
Another comically funny story happening recently includes a teenager who accidentally threw away her phone. She then
jumped into the trash chute
to get it back and... got stuck in it. A 19-year-old girl from Atlanta, Georgia dropped her phone in a food bag and then threw it away. Later on she realized her phone was missing and dove in the trash to retrieve, only to get stuck. Her friends had to call police and fire fighters got her safely out of there.
"I've heard of people getting stuck while cleaning the chutes, but taking a swan dive, like in the movies, that's pretty rare,"
Georgia policeman Tim Fecht said.
So there you have it, your embarassing tech distraction moments of the week. And if this could happen to people just walking around, imagine how much worse things would have gotten if the same distraction happens when you're driving. Applying extra caution wouldn't hurt and it'd definitely save you the embarrassment.