Did you know: this man took hundreds of adorable selfies with wild animals!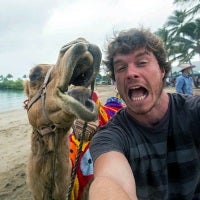 With a little talent, everyone can land a quality selfie nowadays, but few can do it like mr Allan Dixon! A travelling photographer, Dixon spends his leisure time taking selfies with animals too cute for words that he met on his journeys, which span Australia and Ireland all the way to the bottom of the ocean. Even if you don't share the same kind of love for fuzzy animals, you can't help but admire his photos for being outright great! Rather, some of them look downright unbelievable. How do you make a squirrel smile?
According to the man himself, the trick is to "gain the animal's trust in a calm, relaxed manner, and the results will be golden!" It's talks like this that have earned Dixon the nickname of a real Dr. Dolittle. Of course, the selfie-taking doc warns those eager to follow in his footsteps steps that they should avoid approaching an animal that they don't know to be friendly, and to keep their distance behind gates, barriers, and other restricted zones. From then on, it's practice, practice, practice!
A little more about the man behind, or should we say, the front of the camera? When he isn't busy working for his Instagram account, Allan is a content marketer in Ireland. His hobby of taking selfies with animals started from a photo with a baby camel in the Australian Outback, which blew his friends' minds back in 2013. From then on, it's all about stuff like photographing a duck taking bread from his mouth, cuddling kangaroos, and mingling with quokkas, which he says are
"the happiest animals in the world"
.
Since he opened up his Instagram account, Allan has amassed over 179k followers and over one million views on YouTube. Right now, the man is on a quest to land a selfie with the great Tasmanian devil!