Did you know: One in five young adults in America use their smartphones during sex
38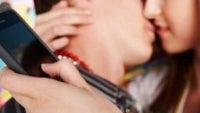 If you read PhoneArena, you probably love smartphones. You probably love your smartphone, too! But have you seriously thought about how much, exactly, do you
love
your smartphone?
According to a study from around two years ago (sorry, they don't make them every year), nearly one in ten smartphone owners in America admit to using their handset (handset, not hands!) during sexy times! Young adults aged 18 to 34, in particular, are especially into smartphone-ing during intercourse-ing, with one in five having admitted to using their phones in the middle of it.
Given these results, it's hardly surprising that 12% of surveyed users believe their smartphone use is messing up their relationships in some way or another. Marketing officer (and possibly part-time psychologist) Marc Barach explained the phenomenon, saying that "people view their smartphones as an extension of themselves, taking them everywhere they go".
Moreover, he added that nearly 30% of surveyed adults have admitted to spying on someone else's device out of privacy concerns, which is just one of the many slightly diabolical ways technology is creeping up on our daily interactions. Sex life included. Are we truly prepared to handle the wealth of personal information sharing enabled by constant connectivity and internet socializing? Should we be worried about the future generations? Of the future of our species?
Nah. Just don't be using your smartphone during sex — you
obviously
have better things to do!
source:
Raw Story