Deus Ex: The Fall is now live on Apple App Store
8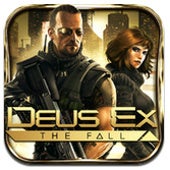 Deus Ex: The Fall is here ahead of schedule
and you can get it now on the Apple App Store. The game brings jaw-dropping graphics set in the Deus Ex universe and has an immersive story and adrenaline-boosting action.
Deus Ex: The Fall is a brand new chapter in the series. It takes place in 2027, a time when technology has exploded to new levels and a
global conspiracy has threatened the life of our main hero Ben Saxon
, former British SAS Mercenary. There is a hidden truth behind everything that is happening that will keep you glued to your mobile screens for hours on.
The game is nearly console grade and has
high requirements
. It would only work on iPad 3 and newer, iPad Mini, iPhone 4S and above, or iPod Touch 5 and later. It's an iOS exclusive title, coming just in time for the 5-year App Store anniversary.
It costs $6.99
, but that price gets you rid of nasty in-app purchases and allows you enjoy the action freely. The game weighs a whopping 1.6GB so equip yourselves with patience.