Delta Airlines to upgrade to the Nokia Lumia 1520 from an older model
73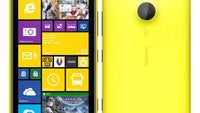 Delta Airlines is upgrading to a new fleet of wide body equipment. No, Delta isn't taking a delivery of new jets, but is taking a delivery of new smartphones. The Atlanta based airline (another type of carrier than the kind we are used to writing about) is upgrading its fleet of smartphones from the
Nokia Lumia 820
to the
Nokia Lumia 1520
phablet.
Currently, flight attendants on Delta flights are using the Nokia Lumia 820 to take food orders in-flight. But that device was released October 30, 2012 and features a 4.3 inch screen with resolution of 480 x 800. With the much larger 6 inch screen (offering 1080 x 1920 resolution) on the Nokia Lumia 1520, Delta hopes to sell seat upgrades during a flight.
Delta
already arms its pilots
with the
Microsoft Surface 2
tablet instead of those heavy chart books and flight bags that its pilots used to employ.
Each tablet replaces 40 pounds of paper and using the tablets will save the airline 1.2 million gallons of fuel
and lower carbon emissions by 26 million pounds over the course of a year. There is no projection on how much additional revenue Delta will receive from arming its flight attendants with the Lumia 1520 instead of the Lumia 820.
Previously, Delta would swipe a credit card in-flight, but would not know if the card was valid until after the plane touched down and the service paid for was already rendered. Now, using a secure Wi-Fi connection provided by Gogo Inc., Delta will be able to process credit card transactions in real time while in the clouds.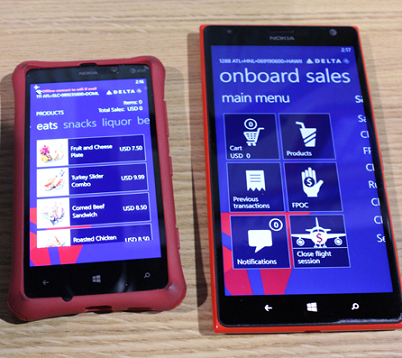 The Nokia Lumia 820 (L) and the Nokia Lumia 1520 shown running Delta's custom in-flight retail sales app
source:
ITBusiness
via
WMPoweruser