Dell introduces XPS 10 Windows RT tablet with 4G LTE connectivity
6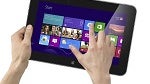 Dell's
XPS 10 running Windows RT
has been available since the launch of Windows RT last October. Like all the other Windows RT tablets out there, its connectivity relied solely on Wi-Fi networks with no cellular connectivity options.
Today, Dell announced the option of adding 4G LTE connectivity for the XPS 10 line of tablets, with service provided by AT&T.
Customers can activate the service quickly and easily, right from the tablet if they choose. AT&T has a $10 per month data add-on feature or a stand-alone $30 per month data plan. People that want to buy the LTE equipped XPS 10 have to opt for the 64GB model. That, along with the LTE radio bring the initial retail price to $599. Dell offers some additional savings for those that order the mobile keyboard dock to go with their tablet, bringing the total to $750.
Dell brings a feature that is lacking from the other Windows RT tablets to the XPS 10. The wireless integration should be seamless too as it is powered by a Qualcomm Snapdragon CPU and Qualcomm is known for solid LTE integration with its chipsets. While it may seem a bit pricey, remember that it is a tablet with a keyboard dock, undercutting a 64GB LTE equipped Apple iPad by $80 and it is only $50 more expensive than a Wi-Fi only version of the same iPad. If you forgo the keyboard dock altogether, you are saving over $200 versus a similarly equipped iPad.
Granted, there are some distinct differences, most notably the display. However, given what most people use tablets for, and the fact that you get Office and OneNote in the deal, it is worthy of consideration.
source:
Dell
via
CNET